Going to the beach, or hanging out with friends or shopping? Don't forget to apply sunscreen. No matter how the weather is outside- cloudy or sunny, you must apply sunscreen to protect your skin from damage. The sun's harmful ultraviolet rays not only cause tan but also causes your skin to age prematurely.
Applying sunscreen is one of the most significant things in a skincare routine. Sunscreens come in different forms- lotions, sticks, gels, and broad-spectrum. You should consider SPF too while buying a sunscreen lotion. But, is the sunscreen offering you the right protection? Here, we have discussed a few points on how to select the right sunscreen.
Do you know that protection against Ultraviolet rays is calculated through SPF ratings? SPF 30 is the best for Indian summers. However, we often do not apply the needed amount of sunscreen for the right protection. It is practical to purchase a sunscreen with a high SPF so that it offers enough protection, even if not applied in the right amounts.
How to Choose the Best Sunscreen?
Here are a few essential points to consider while choosing the best sunscreen.
Date of manufacturing: Fresher the sunscreen, better the efficiency of the product. The ingredients used in the sunscreen tend to break down easily, even when kept on the shelf without use. Therefore, it is significant to purchase the freshest stock possible. Try and get through with one before purchasing another so that your closet is not filled with old, unused sunscreen.
Branded sunscreen: Buying a sunscreen from a reputable brand is always important. If possible, choose international brands. Companies in the Europe and US should be certified by either FDA or European Union, and they have strict regulations on certifying sunscreens.
Sunscreen should be free from dangerous ingredients: Before buying, check what are the ingredients used in the product. Check the list of ingredients. This will help you know if the sunscreen consists of oxybenzone, a hormone disruptor that results in an allergic reaction.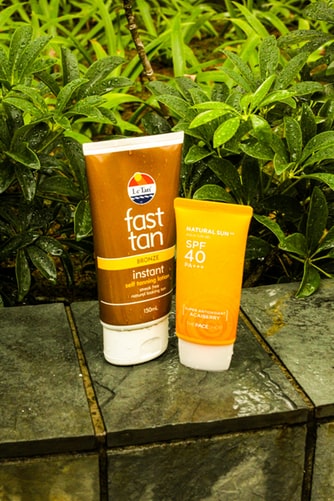 Always select a creamy sunscreen: Spray and powder sunscreens are the mineral-based and consists of nanoparticles that can enter the bloodstream and cause different health problems. Avoid such products and use cream-based sunscreens.
A sunscreen that provides SPF 30 protection: Always check the SPF range which is mentioned on the pack of sunscreen. Anything which is above SPF 15 is regarded as decent protection. However, if you want foolproof protection, choose a sunscreen that has SPF 30 or more.
Sweat and water resistance: If you are going for a walk or to the beach, using sweat and water-resistant sunscreen is a must.
Kid-friendly sunscreen: Kids need sunscreens as much as adults need. However, you must be very careful while selecting a sunscreen for them. Kids have sensitive skin, and the ingredients present in the sunscreen may cause allergic reactions. Do your research and purchase a sunscreen cream that is specially designed for children. These sunscreens do not consist of benzophenones, para-aminobenzoic acid. Aveeno is a great choice for kids. Nowadays, even SPF clothing is available for your little ones.
Prevention is always better than cure. Buying a good sunscreen will keep your skin young, beautiful, and healthy.