To get healthy and glowing skin, we start using the best of skincare products. However, sometimes all your skin needs are a little pampering using natural ingredients. As these ingredients are chemical-free, they suit every type of skin- be it normal, sensitive, or oily. Believe in the power of nature to heal and beautify your skin naturally. As a woman, it is important to have a few natural beauty tips for the face following which you can enhance your beauty when you do not have enough time for invasive processes and treatments.
Here, we have come with a few beauty tips and tricks that will give you the desired glow without causing any irritation on the skin. These beauty tips for the face are tried and tested and works for every skin type. Read on to find out what we have in store for you.
Beauty Tips for Face
The Golden Rule
Do ensure that you always remove your makeup before going to sleep. The skin needs to breathe. Makeup prevents that, as leaving it overnight clogs the pores which may cause blackheads or blemishes. Do not have a makeup remover? No problem. Put some olive oil on a cotton pad and massage it on your face to get rid of the dirt and makeup.
Do not forget that exfoliation is essential. At least once or twice a week, exfoliate your skin to remove the dead skin. This will surely give you a healthy glow and bright skin. You can even apply a paste of walnut powder and mix with yogurt to exfoliate your skin, as the antioxidants present in the walnuts are best for removing dirt and it promotes radiant skin too.
Apply sunscreen
One of the most important beauty tips for the face is to apply sunscreen with SPF of about 15 that blocks both UVA and UVB rays. As exposure to the sun can cause age spots, wrinkles, and other skin issues, you must protect your skin from the sun. While buying sunscreen, check the label. It should read "non-comedogenic' or 'non-acnegenic' so that the product does not block your pores.
Do not skip the sunscreen, whether it is cold or cloudy outside. If you are traveling to a beach or going around reflective surfaces like ice or snow, make sure you cover your skin with more and more sunscreen with an SPF of at least 30.
Use chilled tea bags for treating puffy eyes
This is one of the best beauty tips especially for those who have puffy eyes. Many people do not know that after drinking green tea you can use teabags.  Apart from flushing out toxins from your body, chilled green or black tea bags are great for your skin. This is one of the significant beauty tips for the face that can instantly reduce eye puffiness and make them look brighter. What you need to do is put the eyebags on your eyelids and relax for 5 to 15 minutes as the tea bags start doing their magic.
Eat healthy foods
You must have come across this one in most of the beauty tips and tricks. Do keep a note of what you eat in a day. Eat fresh fruits, green leafy vegetables, enough vitamins, and protein. A diet rich in Vitamin C and low in sugar and fats supports radiant skin. Choose a low-sugar diet, which can keep your insulin levels down, letting cells to maintain a healthy balance.
Try to avoid spicy and fermented foods, citrus fruits, salt, and fried food items. Instead, choose foods like oats, applesauce, and rice.
Use Gram flour for removing tan
This is one of the oldest beauty tips for the face. Gram flour, also known as besan is a natural, mild exfoliator that helps in getting rid of dead skin cells, sunburns, and tan. If you want soft, clear, and naturally glowing skin here is one of the best natural beauty tips you must know. Take equal amounts of curd and gram flour in a bowl. Mix them to make a paste. Apply this paste on your face and neck, allow it to dry for half an hour, and then wash it off with water. It will remove dead skin cells and dirt, therefore lightening your skin tone and makes it even.
Lemon and cucumber for blemishes
All of us struggle with blemishes and blackheads, these make your skin tired and dull. To get rid of blackheads and blemishes naturally and attain a bright and even tone skin, use a concoction of lemon juice and cucumber. Take an equal amount of lemon juice and cucumber and apply all over your face for 10 minutes before washing it off. Daily use of this natural face beauty tip will not only brighten your skin tone but will also lighten the blemishes. The best part of this tip is it suits every skin type.
Exercise regularly
Exercises like running, yoga, and jogging will give your body the necessary blood circulation and accelerate the cleansing procedure of your whole body. You will see a glow on your face after doing exercises. Do not have time? You can even take a brisk walk nearby your house.
However, do not skip skincare before and after doing a workout. Apply a toner to reduce oil production before going out. Exfoliate and then apply olive oil or shea butter to moisturize the skin.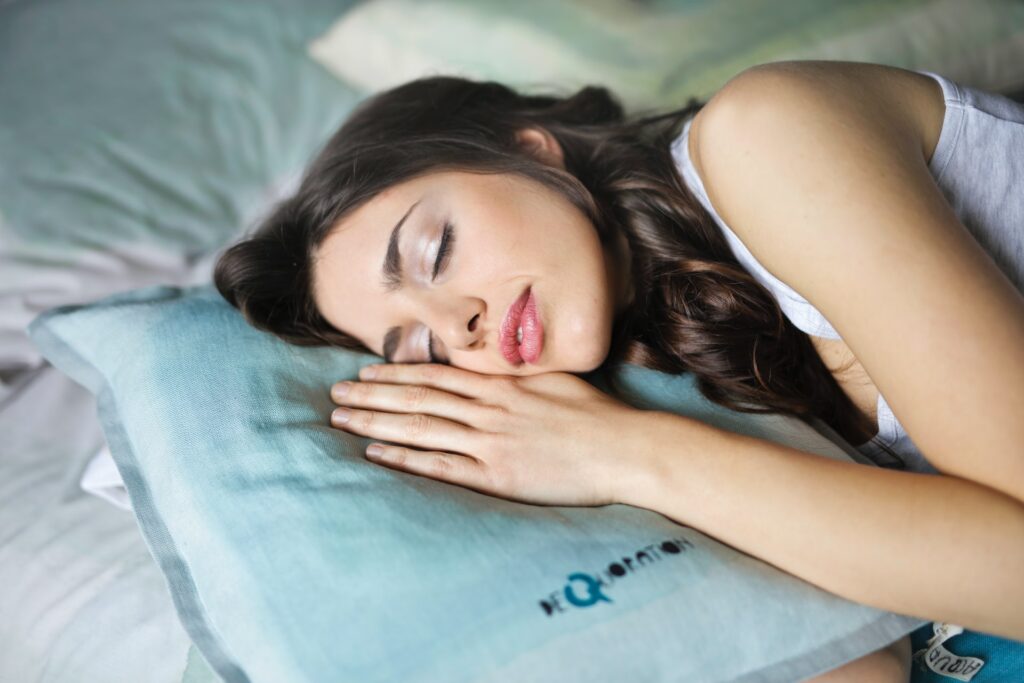 Enough sleep
Try to sleep for at least 8 hours every day. If you do not get enough sleep, your skin will get tired like you- it will start developing sags and you will get under-eye bags. So, do not risk it. You can apply honey on your face twice or thrice a week to soothe and heal your skin naturally. An important thing that you must keep in mind is you should not forget to wash and moisturize your face before sleeping. If you have dry skin, use mild cleansers that do not contain alcohol. Apply lots of moisturizers and avoid hot water as it makes the skin dry.
Drink plenty of water
This is one of the important beauty tips for the face. Keep yourself hydrated. Drink lots of water regularly, at least 8 glasses of water, if not more than that. Also, eat fresh vegetables and fruits that have high water content in them like cucumber, watermelon, strawberry, grapes, and orange. Do not miss rose water. It helps avoid and reduce eye puffiness in the morning, maintains pH balance, and hydrates your skin naturally if you use it during the day.
Apple for treating open pores
Enlarged skin pores make your skin look oily, mature, and attract a lot of dirt causing different skin issues. One of the effective and natural beauty tips is to place thin apple slices on the face and leave it for about 15 minutes. Also, you can make a paste of apple peel, honey, vinegar, and some Multani Mitti with a drop of rose water. Allow it to dry for 30 minutes and then wash. Apple soaks excess oil from your face and closes skin pores, tightening your skin and making it look radiant and healthy.
Aloe Vera to calm your irritated skin
The path to healthy, glowing skin is planted with aloe vera plants. Filled with calming, soothing, and healing properties, fresh aloe vera gel can be used for every hair and skin issue. Right from calming an irritated skin to offering nourishment, using aloe vera gel is one natural beauty tip that you should not miss. Whether it is a small cut, eczema, acne, or any other skin problem, applying aloe vera gel on it twice a day will fasten the healing process.