There is no need to visit a parlour for having beautiful nails. The blend of a well-balanced diet, a caring beauty regimen, and proper personal hygiene can easily give you salon-worthy beautiful nails at half of the expenses. Here are a few things that you must do to take care of your nails.
Use moisturizer- While rubbing oil or lotion in your hands, ensure that you apply the same on the nails and cuticles also. Daily hand washing and using a hand sanitizer can make your skin dry and nails will start bending quickly. So, if possible, after every wash moisturize your hands and nails. Among all, coconut oil is regarded as an excellent choice or rubbing on your cuticles and nails.
Take care of your cuticles- During a manicure, do not trim your cuticles. Cuticles are meant to be a barrier that protects from bacteria. Cutting them can cause painful infections. You can use a cuticle pusher for moistening the cuticles. Once you moisten the cuticles, trim away the dead skin pieces. If you want to do a conventional manicure then, at least safeguard your cuticles by wiping them with almond or olive oil before, in order to lessen the amount of chemical that is present in the polish.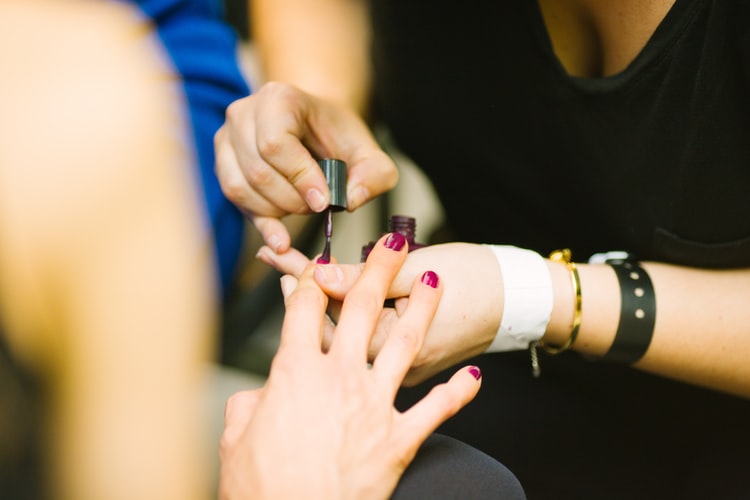 Don't use harsh nail polish- Typically, nail polish consists of toxic chemicals like dibutyl phthalate, dimethyl, toluene, formaldehyde, and camphor. Luckily, companies like Orly, OPI, Revlon, Sally Hansen make some nail polishes that do not consist of these chemicals but ensure that you read the label very carefully before buying. You can also purchase water-based nail polishes, which although does not stay for long but is the safest option.
Find out alternatives- There are many companies that are manufacturing less toxic nail polishes and nail polish removers. It is always better to use those products. Carry those when you visit the salon for your next pedicure session.
Buff rather than colouring- It might not look fancy or attractive as colour, but a bit of buffing can go a long way. Spare some time for trimming, filing and buffing your nails in a proper way. If done properly, you will be surprised with the attractive look of your nails. Never use a file back and forth as it weakens your nails. Always file your nails from the outer edge towards the inner side.
Use a good remover- You can purchase acetone-free remover in the market. This is a good nail polish remover as it has a less harsh effect on your nails. There are many nail polish removers available in the market that is made of natural products. If it is possible for you to get those, buy those removers. You can try the ones consisting of vanilla and fruit acids.
Eat a healthy diet- Diet plays an important role in maintaining healthy and beautiful nails. Protein is important, just like omega-3 fatty acids. Eating foods that contain Vitamin B lessens brittleness whereas zinc helps in reducing white spots on the nail. Iron helps in preventing the formation of ridges.
Try these easy and simple nail care remedies now and get attractive nails.