You may take good care of your face and hair but there are some body parts that are most often ignored, and feet are one of them. They too deserve some pampering and care, after all, with the help of those feet you move from one place to the other, survive the accidental hits in the toe, and tolerate the pumps, stiletto, and chappal routine every day. Want to know how to do pedicures at home to keep your feet soft and beautiful? You are in the right place. Here, you will get to know about ways to do a pedicure at home.
Pedicure is done not only for relaxation but also provides your feet with the much-required cleaning and care. In the end, you will feel happy, and your feet will be thankful to you. Read on and learn how to do pedicures at home.
What is Pedicure?
A pedicure is a beauty treatment for your feet. It involves cleaning and enhancing their look by following few steps. The nails are clipped and properly filed, the callus, i.e. the hard skin of the feet is properly taken care of.
Nowadays, there are many places that offer a leg massage and foot rub all the way up to your knees. Lastly, the toenails are painted with the color you prefer.
Why a Pedicure?
Taking proper care of your feet is important. Uncomfortable and wrong shoes can leave your feet cracked with improperly grown toenails, corns, and calluses. If you leave the feet untreated, dirt will get accumulated and make it look worse. With a pedicure, you can solve all these problems. Now as you know why a pedicure is important, let us find out ways to do a pedicure at home.
How to choose the right pedicure?
As there are different ways to do a pedicure, you might be confused about which way to choose. If you are doing a pedicure for the first time or after a long time, choose a more elaborate treatment in which your feet and legs will be massaged. Generally, this process cess continues for a longer time period. Though it may be a bit costly, it will beautify your feet. If you are among those who take care of their feet regularly then, you can choose a basic pedicure for a couple of months to pamper them sometimes.
There are different ways to do a pedicure at home, but yes, you must know the right procedure. If your feet are dry and need moisture, then a pedicure using paraffin wax is the right option for you. It brings back the lost moisture.
If you are suffering from foot pain, then massage using hot stone therapy can be helpful. You can also choose a fish pedicure. It is a soothing and relaxing pedicure done using fish. There are plenty of options available. All you need to choose the right one based on your problem. So, while choosing a pedicure, keep your feet' condition in mind.
Nowadays, there are many who choose a fish pedicure in which the fishes nibble on the toes and eat the dead skin. However, in this pedicure, a high risk of infection is involved as it is not possible to clean the tub after every use. Also, the fish must be changed from time to time which most of the places will not follow. Because of this, many salons have stopped this pedicure.
Although a salon treatment may sound expensive, it is always better to make sure that the place is hygienic, or you may suffer from a foot infection. Before starting the pedicure, make sure the tub is clean and has freshwater, instruments used are properly sterilized and they do not use old towels. However, if you want to avoid the expense, you can do the same at your home. Let us see the ways to do a pedicure at home.
7 Ways to do a Pedciure at Home
Prep Your Nails
Among the various ways to do a pedicure at home, preparing your nails is the most important step.
By using a nail polish remover, remove your old nail polish with a cotton ball
Next, clip your nails using a nail cutter, but ensure that you cut across straight. Do not cut the corners deep, or you will end up with painful nails
Before starting to cut the nails, decide the shape of your nails, so that you can file them accordingly
Shape your nails using a nail fiber. Do the filing with enough force to change the shape of your nails, but make sure you are gentle to them. Resist doing the back and forth motion across the nail tip, as it will weaken them. Instead, file the nails in a single direction to get the shape you want.
2. Soak your feet
Next on the list of ways to do a pedicure at home is soaking your feet. This is one of the important ways to do a pedicure at home which most of us miss.
It is probably the most relaxing part of the pedicure. Soaking your feet in the water, scented water is one of the best ways to relax and unwind after a tiring day. This is what you must do.
Fill some warm water in a tub and cover your ankles. If you want to keep it plain, just add shampoo and a few crystals of rock salt in the water. But, if you want an ultimate pedicure, then,
Add a cup of Epsom salt in water. This will soften and soothe inflammation, decrease any type of pain, and lessen the roughness. It also acts as an exfoliator.
Add lemon juice and a drop of shampoo to it
If you want, you can add a few drops of essential oil to it. This generally calms the nerves and gives your feet a relaxing spa treatment.
You can also add some pebbles for a gentle massage.
Sit comfortably and soak your feet for around 15 to 20 minutes. Do not forget to put on some gentle music while doing this. It acts as a stress buster.
Dry your feet using a towel
3. Scrub your feet
Scrubbing your feet is the next one on the list of ways to do a pedicure at home.
Once your feet are dry, massage your feet with a cuticle cream on your toenails. While the cream softens the dead skin, scrub your skin using a pumice stone. Also, you can use a foot file. This will help in removing the dry, rough, and dead skin. If you do not remove the dead skin from time to time, the skin will start hardening, which in turn will cause infection and cracks. Be gentle- you want to get rid of the dead skin, but you do not want to hurt yourself.
Once this is done, remove the cuticle cream and push the cuticles with an angled cuticle pusher. Cuticles are the soft skin at the bottom part of your nail where the nail cartilage and skin joins. With the help of a cuticle remover cream, remove the cuticles. Do not cut the cuticles. Removing this will help your nail grow and promote healthy nails. Be gentle.
Now using a scrub, exfoliate your feet. You must use a foot scrub or a face scrub. Scrub your soles, heels, and do not miss the areas between your toes and the sides. Scrub the ankles also.
If you do not have a cuticle cream at our home, you can make one by mixing:
Almond oil/ olive oil
Coconut oil
Glycerin/ essential oil
Heat the olive oil in a boiler or you can use a microwave. Once done, add coconut oil, essential oil, and glycerin to it. Your cuticle cream is ready. Cool and store inside a bottle. It can be used for a long time if stored well.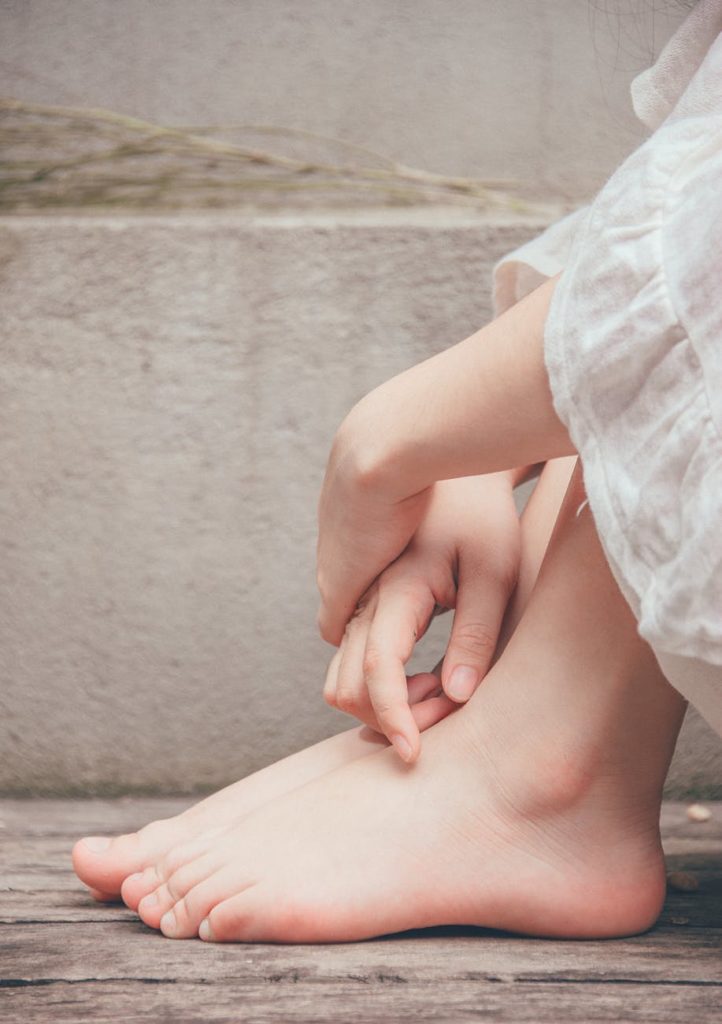 4. Moisturize
Moisturizing is the next step in the list of ways to do a pedicure at home.
Now your feet are clean and fresh, but you must moisturize them for rejuvenating them. A heavy moisturizer will be helpful.
You can massage your ankles, feet, and calf muscles for 10 minutes. Next, apply a coat of nail polish to your nails.
You can also mix olive oil and almond oil to massage your feet after the cleaning process. Massaging with a teaspoon of your favorite essential oil serves as a great foot massager.
5. Apply nail polish
This is the last but one of the most important ways to do a pedicure at home.
Once all these steps are completed, you can apply the nail polish of your favorite color. This step is optional.
I hope, now you know about the ways to do a pedicure at home. Follow these tricks and have beautiful and soft feet.