A major gauge of healthy skin is a natural glow. But factors like hectic work schedules, stressful lifestyles, insufficient sleep, lack of nutritional diet, harmful sun rays, pollution, and excessive smoking, and drinking alcohol can make your skin dry and dull. All of these are part and parcel of life, and you cannot avoid them. However, there are ways you can prevent them. While you cannot hold back your age, you can slow down the loss of radiance and glow from your skin. Here, we are discussing a few natural beauty tips for glowing skin.
Come autumn and most people start stocking up their creams, moisturizers, and other skin-nourishing products. During this time of the year, the skin starts feeling stretched out, mainly for those who have dry skin. And for others who do not follow a proper skincare routine also notice discolored, and dull skin. As far as people with oily or combination skin is concerned, the skin starts to look better, more glowing, but keep in mind even these skin types will feel stretching and tightening of the skin and will not just moisturizing, but nourishing also. Now, you would ask what is the difference between moisturizing and nourishing? The easiest way to explain it to you would be to compare a dehydrated powered soup with a fresh, home-made soup. You can never replace the goodness of natural and fresh ingredients and products whether it is for your skin or hair or food.
This is where natural face beauty tips come in handy as they are the best alternative to cosmetic products. So, what are these natural beauty tips for the face? Do they just moisturize or do they nourish the skin too? Mostly the answer is yes. Let us have a look at some of the wonderful natural beauty tips for glowing skin and see how you can follow them to soften and nourish your skin.
Natural Beauty Tips for Glowing Skin
Honey- Honey when consumed and applied is excellent for the skin. For dry to combination skin types, you need to take 1 teaspoon of honey and massage the skin regularly. Leave it for 10 minutes before you wash it. Pat dry. You will notice that your skin not only becomes softer but it will have a natural glow. Make sure you use raw honey both to consume and apply on the skin to reap maximum benefits. Nowadays, organic honey is available everywhere.
Coconut oil- Applying coconut oil is one of the best beauty tips for the face, especially for those who have dry and dull skin. Coconut oil locks the moisture in the skin and nourishes it with necessary fatty acids. It protects your skin from UV rays and improves skin barrier function. All these factors can help your skin glow. For this, you will need virgin coconut oil. Warm up the oil and apply it to the face and neck. Massage in a circular motion for a few minutes. Leave the oil overnight. You can even add some sugar to the oil and use it as a scrub to exfoliate your skin. You must apply coconut oil every night before going to sleep.
Turmeric- Blessed with anti-bacterial properties, turmeric is one useful spice that will never disappoint you. Turmeric is a powerful antioxidant that helps in attaining that wonderful glow. It contains curcumin, an anti-inflammatory agent that helps to get rid of puffiness. Not only it gives a natural glow, but it makes the skin rejuvenated and avoids dull skin. Turmeric not just eliminates free radicals that cause damage to the skin but also improves the production of collagen that keeps the skin smooth and fresh.
Yoga- If you have done the downward dog pose, then you must have noticed that the focus shifts on the breath. The unique thing about this yoga pose is that the focus is only on the body and not on the breath. When you exhale, you get rid of toxins from your body. Yoga and the procedure of conscious breathing cleanse the body, leaving the skin energized and refreshed. This helps in maintaining a natural glow.
Follow a natural diet- Our skin is made of the food we intake. So, if you want healthy and glowing skin, you must eat clean, fresh, and juicy foods. A balanced diet with a lot of vitamins, proteins, green leafy vegetables, and fruits, eaten at the right time in the right quantity is helpful.
Fig- It is one of the significant beauty tips for the face. Take two figs and mash them. Combine it with milk and rub it on the face gently for one to two minutes. Wash your face with water and pat dry. This natural remedy will help to remove all the toxins on your skin and help it glow. Ensure you use this face pack daily for maximum benefits. However, before applying this face pack, make sure it suits your skin type. Try a sample of this pack by applying this to your hand and see if there is any reaction or not.
Avocado- This is a healthy fruit with aphrodisiac properties. It is great for dry skin. Mash an avocado and apply it over a clear skin, and massage it slowly. Leave it for a minimum of 15 minutes before you wash it off with milk and then with water. This fruit is full of healthy fats, antioxidants, and vitamins which play a vital role in healthy and glowing skin. Using avocado oil is one of the best options to keep the skin healthy and glowing. Eating avocados is also one of the best ways to have glowing skin.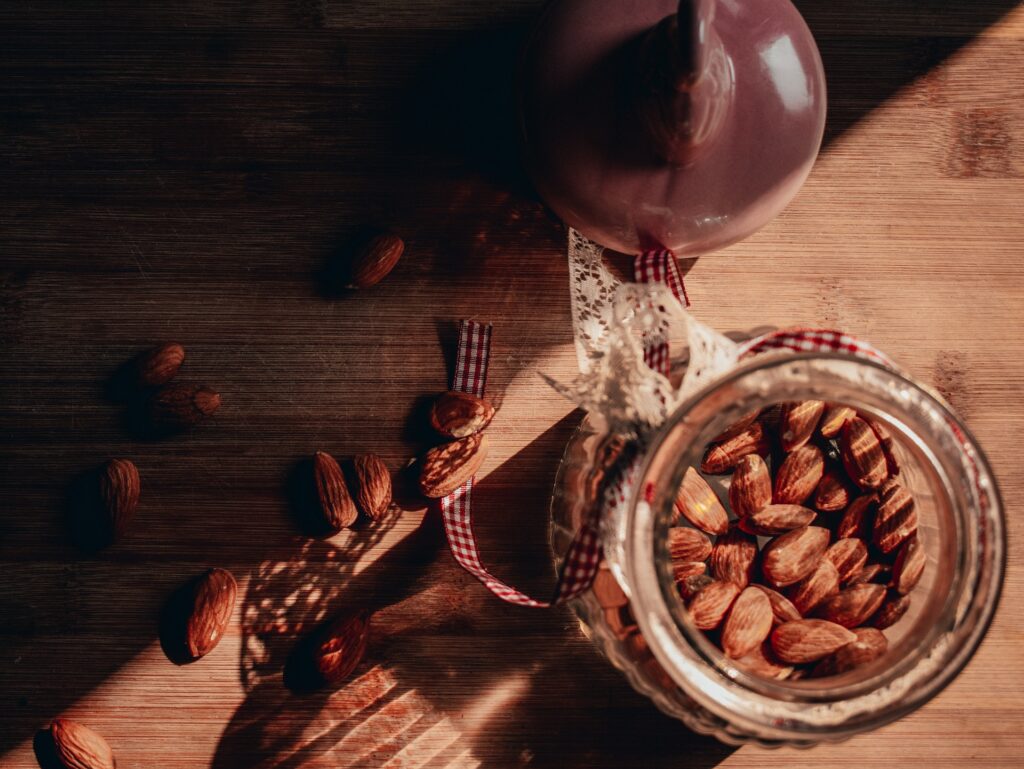 Almonds- Whether you are using pure almond oil or almond paste, both are great sources of Vitamin E, offering adequate nourishment for your skin outside. For dry and dehydrated skin, you have to first massage your face with a teaspoon of almond oil and then make a paste of 10 almonds with a few drops of milk and scrub it on the skin. Wash the face with water. This remedy will not only help you get rid of patchy skin but will give your skin a youthful texture, something which we all look for.
Olive oil- This is a great source of vitamins. Take three to four mashed olives and apply it on the skin and allow it to dry. Wash using cold water and pat dry. It will help in restoring the skin's natural pH. Olive oil or olives has long been known for their skin and health benefits. Olive oil is packed with anti-aging antioxidants, which makes it a great product for beautiful hair and skin.
Baking soda- Baking soda exfoliates dead skin cells and neutralizes the pH level of the skin. It has antibacterial properties that can avoid infection. For this, you will need baking soda, extra virgin olive oil, and honey. Combine all the ingredients in a bowl. Apply this mixture to your wet face and neck in a circular motion. Leave it for 10 minutes. Wash it off with cool water and pat dry. Moisturize with your favorite moisturizer. You must apply this face pack once every week.
Sugar- This is a great skin softener. For getting the best results, mix the granules with fresh cream or curd to bring back the lost life to the dry skin. What you have to do is take one teaspoon of sugar and combine it with a teaspoon of cream and massage it on the skin. Leave it for 10 minutes and then wash your face using cold water. Sugar scrubs have been used for a long time for their abrasive nature that helps in exfoliating skin and brings back the glow.