Aloe vera is one of the most widely used herbal remedies for all skin conditions. The gel-like components of the aloe vera plant are known for healing the skin from several minor ailments. In fact, you might have heard ancestors using aloe in the past for treating minor cuts, small abrasions, and sunburn. Let us see how we can use aloe vera for the face too.
Despite its healing powers, you may be thinking about whether it is safe for your face. The answer is yes. When used correctly, aloe vera gel can help with different kinds of conditions that might affect your skin. Aloe vera works alongside traditional acne medicines. Studies reported that a blend of tretinoin cream, acne medicine, and aloe vera cream can effectively reduce acne lesions.
Benefits
People can apply aloe vera gel on the face every day to treat acne lesions. One can use it as it is or mix it with other natural products. Aloe vera is an alternative treatment, and so there are no authorized guidelines about its dosage or strength. One should not apply any new substance on their face without consulting a dermatologist or doctor. They can also suggest on potential effects that aloe vera might have on any medicines one is taking.
Well, now that all of you know that aloe vera gel, the translucent sap of the plant is filled with innumerable beauty benefits and can help you get rid of almost all skin problems, let us see how applying aloe vera on the face for a month can benefit us. Whether you have an oily, dry, or combination skin, you can use aloe vera gel without any worries but as discussed earlier, if possible, ask your dermatologist before using it. You can use aloe vera for skin whitening, getting rid of acne, for treating pimples, and many more.
Why Should you Apply Aloe Vera on face
• Applying aloe vera gel every day helps in treating acne. Several studies have shown that people with mild to moderate acne can get rid of them by applying aloe vera on the face for a month. Just have a discussion with your doctor before applying it- especially if you are having medicines like isotretinoin, for treating cystic acne. You can also use aloe vera for treating acne scars and dark spots. Even if you feel that acne is not a problem currently, those scars on your face can remain for years. Aloe vera gel helps improve the production of collagen in the skin, which in turn reduces pimples and scars.
• You can use aloe vera for a face mask. This face mask is the best for treating sunburns. Aloe vera gel has cooling and soothing properties. You will feel relieved when you apply it on your skin after a sunburn.
• One of the major benefits of aloe vera on face overnight is it moisturizes dry skin. This plant contains many mucopolysaccharides, a kind of molecule chain with a lot of hydrating properties. This is a common ingredient in moisturizers. The antiviral properties of aloe vera make it a useful treatment for cold sores.

Benefits of Applying Aloe Vera on Face
• Aloe vera gel is also a great treatment for reducing dark circles and puffiness. Remember, the collagen-producing effect we discussed previously? Collagen not only treats acne scars, but it also reduces the overall inflammation in the face. Also, it helps in the production of new skin, which makes you look glowing and radiant.
• Another major benefit of aloe vera on face overnight is it slows the aging process. Some studies have proved that aloe vera has promising effects on its capability to increase the elasticity of the skin with time. Now, you must have understood why aloe vera is used in many anti-wrinkle creams and moisturizers.
• If you have sensitive skin, use aloe vera gel in its purest form. However, before applying it directly on your face, apply some on your wrist. If it does not cause any allergic reaction within 24 hours, then you are good to go!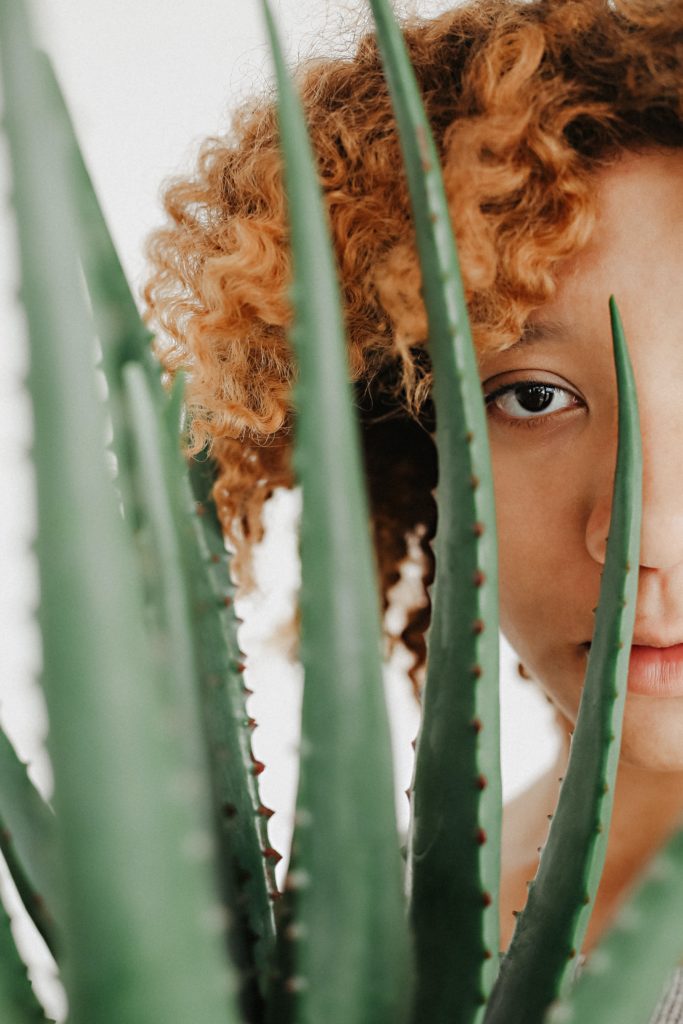 How to Use Aloe Vera Gel
If you are going to use Aloe vera gel for the first time, then you must be asking yourself, "how to use aloe vera gel on the face at night."
One of the simplest ways to apply aloe vera gel at night is by applying the gel using your fingertips. Using your fingertips, apply the gel on your face gently. Avoid rubbing your face too deeply as if it can cause negative effects.
Make sure you apply a thin layer of aloe vera gel. An additional thick layer won't give you any extra benefit. After applying the gel all over your face, leave it overnight. This will give enough time for the skin to absorb everything.